How Long Does an Oil Change Take?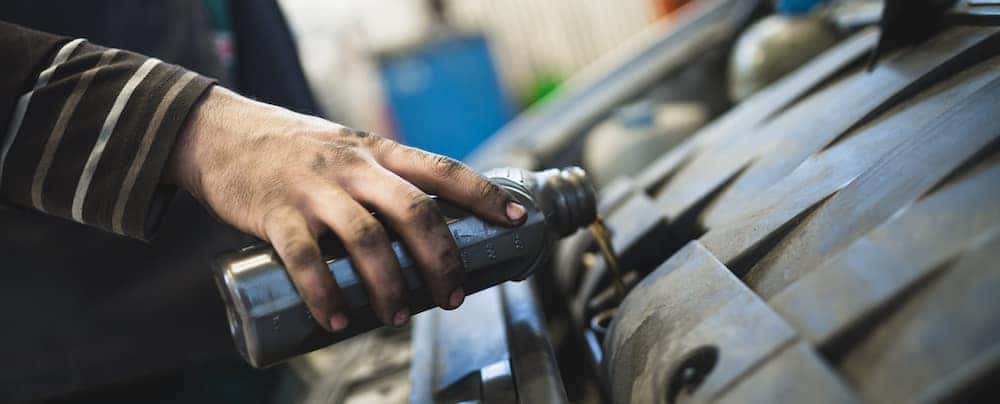 In most cases, you can expect an oil change to take less than an hour. In fact, our Express Lane Service ensures you get back on the road quickly If you'd like to know how long it will take, contact us for more specific timing.
How Long Should an Oil Change Take If I Do It Myself?
The time it takes to change oil yourself can vary depending on your skill level and the type of vehicle you have. Plan on it taking more than an hour if it's your first oil change. You'll want to pull together your tools and supplies ahead of time:
New Mopar Oil Filter
New Synthetic or Conventional Oil
Rubber Mallet
Wrench Set
Jack
Wheel Blocks
Oil Pan
While changing your oil yourself often costs less than going to a dealership, the time and cost in tools makes it easier to turn to Buchanan Auto Park, Inc. near Hagerstown for your next oil change.
Oil Change FAQ
Before you undertake an oil change, it's good to understand the following facts:
Why Get Your Oil Changed at a Dealership? – With more service bays and a highly trained team, you know that we can take care of your RAM oil change quickly and without any issues.
When Should I Get an Oil Change? – It used to be that you'd need to get an oil change every 3,000 miles, but that has changed. Most cars need an oil change every 5,000 to 7,500 miles. That can change depending on how you drive the vehicle, so consult your owner's manual first.
Where Can I Find Oil Change Coupons? – For discounted oil changes, check our service specials pages. You can save on an oil change for your Dodge, RAM, Jeep, or Chrysler vehicle.
Should I Use Synthetic or Conventional Oil? – Check your owner's manual to find out which oil your vehicle requires.
Visit Buchanan Auto Park, Inc. near Chambersburg for a Fast Oil Change!
We're conveniently located a short drive from Gettysburg, and our qualified service team can handle any maintenance tasks from oil changes to collision repair. Call us at 717-788-8432 for information on repairing dents and scratches or stop in to learn more about in-house financing, or a transmission fluid check today.
More From Buchanan Auto Park, Inc.
If you are thinking about switching your vehicle, you are probably taking a look at cars, trying to figure out how to get the most for your money. If you are serious about getting the best value for your money, you should consider buying a used car. We are Buchanan Auto Park, and we provide…

If you are in the market for a new pickup truck, you might be interested in a 2023 Ram 1500. For a long time, this pickup truck has been durable, reliable, and powerful. The 2023 version of this pickup truck is no different. It will provide you with a tremendous amount of power that you…

If you are in the market for a midsize SUV, you might be interested in the 2023 Jeep Grand Cherokee. This is one of the most popular midsize SUVs on the market, and it is important for you to familiarize yourself with the various trim levels. That way, you can choose the right vehicle to…